CALDERA – PEOPLE'S CHOICE AWARD
Creation of a volcano museum in the vicinity of Mount Ararat, Turkey, striving towards comprehensive experiences and recreation of volcanology's past, present, and future through interactive technologies which shall induce learning as well as visual interaction.
These students won the PEOPLE'S CHOICE AWARD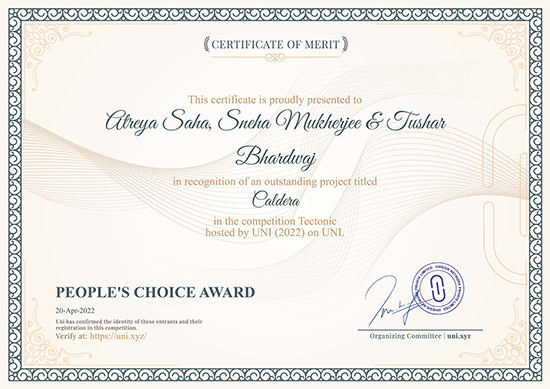 Atreya Saha

Sneha Mukherjee

Tushar Bhardwaj
Khelkud-2022
The connotation of the word 'sports' transcends its etymological meaning, i.e. 'games' or 'recreation'. 'Sports' is an avenue to rejuvenate and reconnect with the self and build a healthy relationship among peers and colleagues. Driven by such beliefs and ideals, OmDayal Group of Institutions organized a two-day Sports event called 'Khelkud-2022' on 11th and 12th April, 2022. The event comprised of five games, including Football, Badminton, Chess, Carrom and Table Tennis. A perfect milieu of indoor and outdoor games, the event catered to an array of physical and mental attributes of students, including fitness, strategic thinking and sportsmanship spirit.