Curriculum
Being an affiliated institute, the MAKAUT curriculum is followed. Apart from that,  students are encourage to pursue courses under the National Programme on Technology  Enhanced Learning (NPTEL), or the Massive Open Online Course (MOOCs). Each student is  individually mentored by highly-trained faculty members in order to ensure that they  understand lectures without any doubts, and can also apply that while studying the primary  syllabus.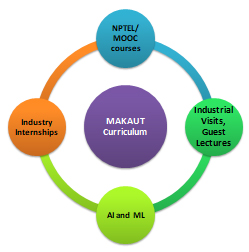 Additionally, every department in the college organizes guest lectures by industry expert, alumni lecture, seminar, workshop and conferences. An array of co-curricular activities in form of competitions, quizzes, power point presentations, creative and innovative projects etc, for which they get points under Mandatory Additional Requirements (MAR).
Learning Management System :
Management lies at the core of every successful endeavor, including teaching and learning. Our Learning Management System is a perfect amalgamation of physical learning, as well as E-learning. While our teachers take special care in explaining every concept to students during intensive classroom lectures, they also make sure that students are provided with enough e-learning materials to study on their own. We also have a vast collection of academic content in our library which plays an important role in our teaching-learning process, along with state-of-the-art laboratories.
The learning is student centric and participative with innovation in both learning and assessment. A few distinct practices of teaching learning and evaluation are –
Online course registration and credit transfer scheme available
Use of ICT tools
Practice of flipped classroom
Experimental and experiential learning opportunities
E-books and E-journals in the Central Library with remote access
Complete adherence of academic calendar
Bridge Courses:
The field of Engineering, in the 21st Century, is replete with unprecedented challenges, disruptive innovations, and lastly, relentless competition. Therefore, in order to prepare our students with a steady foundational knowledge of Basic Science and Humanities before they commence their educational journey in the domain of engineering, we offer intensive Bridge Courses for newly enrolled students.
Our method of teaching these courses is a perfect amalgamation of theory and practice – we initiate students into theoretical understanding of core scientific concepts, as well as laboratory experiments. The communication classes, conducted through classroom lectures and language laboratory training are specially designed for students to develop basic skills in effective technical communications.
Learning beyond Classrooms
Co curricular activities like measure drawing tours and site visits are conducted on a regular basis. Students are initiated into handling activities beyond the classroom and they grow the habit of performing under trying circumstances thereby picking up character building traits of sharing and facilitating.